Mandarin Bilingual Program
Through the Mandarin Bilingual Program, Chaoyin Bilingual School provides its students with the opportunity to learn in both English and Mandarin, providing them with a key advantage for future success, both in university and experiences beyond their formal learning.
Key Benefits:
Explore, understand and appreciate the cultures of the Mandarin-speaking world.
Compete internationally among the 1.6 billion Mandarin speakers all over the world.
Have greater opportunities for their post-secondary education and a wider choice of careers in the future.
Broaden their cultural life through access to literature, art, and music in another language.
Learn daily in both English and Mandarin languages.
Immersive Environment 
Our Mandarin class follows the pedagogy of immersive language learning. Most of the instructional language will be in Mandarin. English will only be used to support students' understanding of tasks. Late Mandarin Language Program (MLP)
STEM and Culture-based 
CIS Mandarin class implemented a STEM-based curriculum. Students are able to explore the world of Science and Arts with the instructional language of Mandarin. CBS celebrates Chinese culture such as Chinese poetry and Chinese festivals including Lunar New Year and Mid-Autumn Festival.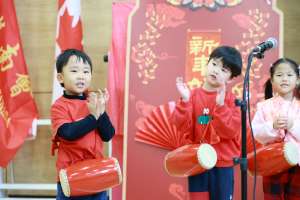 Chinese Literacy Development  
In order to support students' emergent writing skills, stroke order and radical will be introduced in class starting from Kindergarten. Students are assessed throughout the semester, and are assigned reading and writing materials according to their levels of development. Students will also learn Chinese idioms and poems in class.
Individualized Learning Plan
We use Youth Chinese Test (YCT) , an international standardized test of Chinese language proficiency, to assess our students' ability in Chinese. We conduct language proficiency tests throughout the year, so that teachers and parents can better understand their learning progress. Teaching staff can develop teaching plans that are customized to each student's needs.